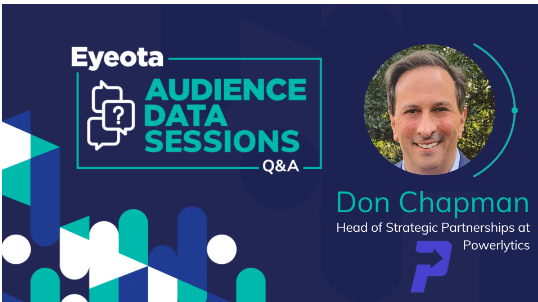 Don Chapman discusses the role of financial data in prospect targeting
Published 27th Oct 2023
Back to blog
Can you introduce yourself and your audience solutions?
I am the Head of Strategic Partnerships at Powerlytics. My role is to identify new growth opportunities where our unique IRS-based data solution can add value for partners and their customers. Audience targeting has been a focus area as our accurate income and wealth data can deliver value to a range of advertisers from consumer financial services (banks, lenders, wealth firms, insurance) to brands in a range of other sectors (travel, auto, fashion, consumer goods, etc.)
Why have you partnered with Eyeota?
We launched Powerlytics segments in partnership with Eyeota in late 2022. Eyeota's ability to transform our highly accurate income, wealth and other financial data into targetable segments to help find consumers across a range of digital media properties was very appealing. These unique capabilities allow us to bring value more broadly to our core financial services targets while extending our reach into other sectors (e.g., auto, travel, etc.). The Eyeota team's deep knowledge of the digital advertising market, broad distribution capabilities and overall solution-oriented approach to serving advertisers and driving growth was also very impressive. The combination of Powerlytics' unique dataset and Eyeota's digital/mobile distribution capabilities is a powerful tool to help brands and agencies find the ideal audiences and optimize marketing investment ROI.
In which markets do you operate?
We are exclusively focused on the US market where we have built the only database of anonymized IRS tax returns covering over 150M households.
Can you discuss the importance of audience data in today's digital advertising landscape?
Having run marketing for some large brands in the consumer goods and tech industries, I know all too well that digital marketing success can be a huge challenge. The primary key to success is leveraging the right combination of data sources, and Powerlytics source of truth financial data underpinned by anonymized IRS tax returns helps brands pinpoint their products and services to consumers with the optimal income and wealth profiles. Powerlytics proprietary IRS dataset can also help brands find important niche audiences including consumers likely to give to charity, families with kids in college and wealthy retirees. 
How can businesses leverage data to improve advertising strategies?​
Brands and agencies should be actively seeking and constantly testing new data sources to help optimize targeting. There is an old adage going back to the days of direct marketing (pre-digital) which says something like "targeting the right people is at least 2x more valuable than great messaging or a compelling promotion." Today, data sources are abundant but identifying and leveraging accurate sources is a key to campaign effectiveness. Marketers who do the best job testing and learning a range of quality sources can gain a competitive advantage. These sources should include intent and behavioral data but also the often-overlooked area of quality financial data as for many products and services, targeting the optimal income/wealth profile can be the primary key to success.
Read next