Predictive Analytics & Research
Powering the Decisions of Tomorrow
Overview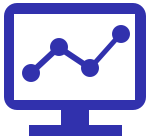 Analysis and decisions are only as good as the data and information they are based upon.
Even the smallest margin of error can put the decision and outcome at risk and this can prove very expensive and often catastrophic. The "survey" nature of today's data makes it intrinsically inaccurate, incomplete and unreliable.
Powerlytics has changed the game, bringing accuracy and clarity to a world of uncertainty. With our unique data platform we deliver unrivalled economic insights into over 150 million US households and 30 million US businesses including complete financial statements for all for-profit public and private companies.
This unprecedented data resource can be analyzed across thousands of geographic areas, over 1,000 different industry sectors and can be filtered further by the size and legal form of the business. The unparalleled consumer data includes thousands of financial variables for over 200 million adults.
Predict key customer behaviors such as likelihood to respond, propensity to buy, or likelihood to default or understand the potential impact of a downturn by leveraging our Recession and Recovery Scores.
Prediction
Looking ahead with accuracy…
Predictive Analytics – Predict consumer & business behaviors including propensity to buy, likelihood to respond to a new solicitation or cross-sell offer, lapse/attrition propensity, and improve risk and default models.
Benchmarking
Reality check your assumptions and understand possibilities…
Business Benchmarking – Compare any US business against a well-defined peer group that is not a subset of the overall population, but covers 100% of private and public companies with in-depth financial line items and key ratios.
Market Opportunity
What could success look like?
Opportunity Analysis – Make more informed decisions with accurate market-sizing, sector and geographic analysis, Financial Health Scores and site selection analytics.
Investment Research – Analysis and insights on Municipal Bonds, Asset-back Securities, Real Estate, Macro/Micro Economic trends, etc.
Look-a-Like Models – Find consumers and businesses that look like your best customers.