Marketing
Power Campaigns with the Most Accurate US Financial Data
Overview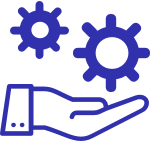 Whether your focus is on B2B or B2C markets, you now have the ability to obtain the most accurate and granular market sizing and financial data available on your business and consumer targets.
Our audiences can be matched with incredible precision and scale, due to the unique nature of the underlying data which comprises the financial records of over 30 million businesses and 150 million households. You can now understand total household income (and all of its components), investable assets, business revenue and key ratios more accurately than ever before.
Targeting Spend in the Most Valuable Areas
Business to Business
Powerlytics Data Platform and cloud-based Big Data products provide complete market sizing in over 1,000 industries across the United States, with the ability to understand market sizes at sector, revenue and geography down to the ZIP Code.
You will not only understand market size, but you will gain unique insight into the competition including how much they are spending on advertising, how much debt they carry and over 100 other financial metrics.
Business to Consumer
Time and money are wasted designing and executing marketing campaigns which are based on an inaccurate financial picture of the consumer.
Our Source of Truth data is not survey-driven, with pitfalls such as inaccuracy, sample bias and incomplete populations. It also does not require any added customer friction to enable a deep and accurate understanding of your prospects and customers.
Our income data has passed regulatory scrutiny and blind tests against verified income conducted by leading banks. All you need is a ZIP+4 (9-digit ZIP Code) and Powerlytics supplies the rest.
Targeting & Segmentation
Focusing reach and funnel optimization…
Investable Asset Estimation – Understand total household assets and components.
Detailed Consumer Income Profiles – Targeting the right people with the optimal offer.
Accurate Small and Mid-size Business Revenue – Target businesses that best fit your profile.
Prospect Segmentation & Targeting – Create custom targeting models and digital marketing segments for consumer and business audiences.
Customer Retention & Growth
Intelligence, relevance and value alignment…
Customer Marketing – More efficient, profitable and intelligent customer marketing through consumer and business segmentation & targeting, 360 profiling, proactive cross-sell/upsell and enhanced customer retention models.